About Me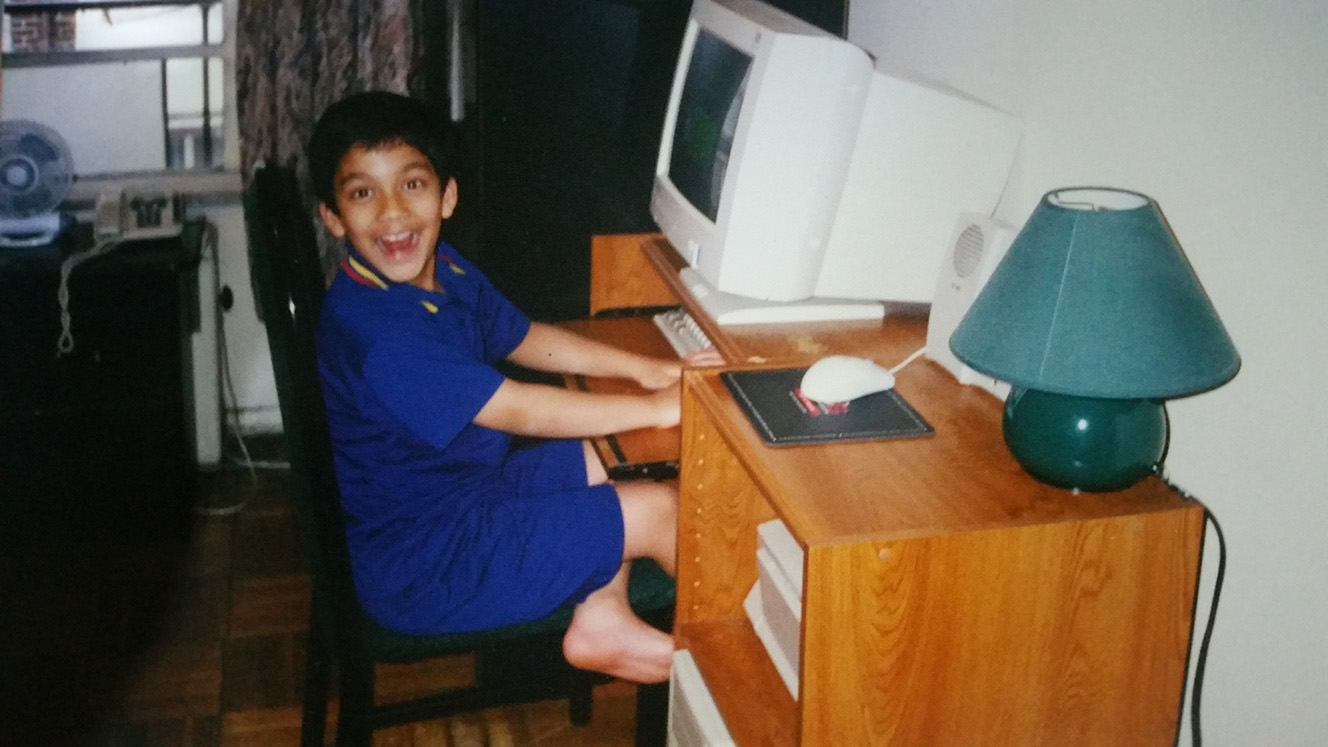 Hacking into the mainframe circa 2004
I am a young innovator with a versatile set of skills in full-stack application development, UI/UX design, music production and digital content creation. I am passionate about software craftsmanship, edutech, data visualization, API economy, and open-source technologies.
Here are some fast facts:
I like to play competitive first-person shooters like CS:GO and Overwatch and I practically grew up on Doom and Unreal Tournament 99 (feel free to add me on Steam: PhraktureMusic)
I've been making progressive breaks, liquid drum'n'bass and IDM using Cubase under the artist name Phrakture since 2006 and have recently begun making more indie electronic music under the artist name Nafeu
Follow me on Goodreads to see what I've been digging in to lately and feel free to recommend a good book while you are at it!
Development
* List of proficient skills with deeper focus in bold
Python, Django, JavaScript, jQuery, AngularJS, ReactJS, Node.js, Socket.io, D3.js, Express.js, Mocha, Grunt/Gulp/Webpack, bash, Postgres, MySQL, MongoDB, Mongoose, Cloudant, TFS, git, SVN, Clojure, ClojureScript, Leiningen, Reagent, Reframe, HTML5, CSS3, SCSS, AWS EC2/RDS, Heroku, Bluemix, Watson APIs, LaTeX, PHP, Wordpress, Java, C#, ASP.NET MVC, Veeva iRep, Agnitio, Loggly, Sentry, Travis CI, Botkit, Electron.io, REST, OAuth, JWT, Bootstrap, Flexgrid, Raspberry Pi, ST3, Visual Studio
Work Experience
Software Developer – DIVE Networks, Toronto, Ontario – Sep 2016 to Sep 2017
Used Botkit, Slack API (Web, RTM and Events), Python and Node.js to build a secure chat bot server and Slack integration that interacts with DIVE's content management system.
Performed general bug fixing/debugging and feature work for Team DIVE, DIVE Player and DIVE Dashboard which utilize technologies, languages and frameworks such as Clojure, ClojureScript, Leiningen, Garden, Django (Python), React (Reagent, Reframe), Sentry and JavaScript.
Software Developer (RA / Part-Time) – University of Toronto, Centre for French & Linguistics, Scarborough, Ontario – Aug 2016 to May 2018
Used D3.js, MEAN stack, Heroku and various open-source tools to build and maintain multiple educational and teaching tools for use by students and faculty in the Linguistics Department. This includes a dynamic syntax tree builder, a lecture presentation app with real-time audience interaction/participation features, an interactive IPA feature explorer and more.
Bluemix Specialist – Ecosystem Development – IBM Canada, Markham, Ontario – May 2016 to August 2016
Prototyped and built demos using IBM Bluemix (PaaS) and Watson APIs for use in presentations, workshops and general tech demonstrations.
Ran workshops on IBM Bluemix internally and externally at hackathons, tech meetups, code schools, university startup incubators and client meetings.
Full Stack Web and Application Developer – Three Point Turn Inc. Toronto, Ontario – Jun 2014 to Jan 2016
Performed extensive front-end and back-end development work on ASP.NET MVC5 web applications applying responsive front-end design practices, Service Oriented Architecture, using REST APIs, participating in client demos and collaborating with senior developers
Projects
Volunteering and Community Involvement
Tech Enthusiast, Organizer - Introspective Code, Toronto, Ontario – August 2014 to Present
Nourishment Volunteer – Recreation Therapy – West Park Healthcare Centre, Toronto, Ontario – August 2013 to December 2014
Education
Honours Bachelor of Science - Double Major in Computer Science and Linguistics, University of Toronto
Email: nafeu.nasir@gmail.com